Book The Dumpster Rental Raleigh NC Chooses First
Book the best dumpster rental Raleigh NC has to offer from the friendly and knowledgeable team at Dumpsters On Wheelz and complete your upcoming waste disposal project quickly and conveniently. Removing waste can be a headache in and of itself, but with our high-quality dump trailers, experienced staff, and 5-star rated services working on your behalf, you can start your home cleanout, office park demolition, or roof replacement with peace of mind.

We're proud to be the top waste disposal choice for Raleigh, North Carolina, and the surrounding communities of Wake County. No project is too big or small for our crew of professionals, and we regularly work with local businesses, school districts, homeowners, and property managers looking for the #1 dumpster rental Raleigh NC can provide. Whether you're redesigning the landscaping of your rental property or cleaning up after an estate sale, Dumpsters On Wheelz is here to help!

Our user-friendly online booking tool allows you to browse our available scheduling options, add to your cart, and check out with our secure system in a matter of minutes. Whether you're running errands or managing a housing development site, you can arrange the delivery of the top-rated dumpster rental Raleigh NC homeowners, businesses, and contractors trust online today! If you have any questions or need more information, give us a call at (919) 890-3155.
We are the perfect option for any of your clean-up projects.

Here is why:
No Damage to Your Property
Using dumpster trailers will ensure no damage to your driveway or yard. We use trailers with rubber tires pulled by a pickup truck, as opposed to dumpsters with steel-rollers dropped by large heavy trucks that can damage your property.
We can Maneuver into Small Places
Delivering our dumpsters with a pickup truck enables Dumpsters on Wheelz to maneuver your dumpster into tight spots where large heavy tall trucks with roll-off trucks cannot operate.
Years of Experience in Customer Service
I have been in customer service for the last 25 years as a CPA. I will accomplish the job with professionalism and personal customer service. We will exceed your expectations!
Do you need a dumpster today?
Call now, we will do everything possible to deliver a dumpster ASAP.

Call 919-890-3155
We Take Just About Everything
Some examples of the junk we haul away include
Disposal
Appliance Disposal
Refrigerator Disposal
Mattress Disposal
Television Disposal & Recycling
E-Waste Disposal
Hot Tub Disposal
Removal
Trash Removal
Foreclosure Clean Outs
Construction Waste Removal
Garbage Removal
Yard Waste Removal
Furniture Removal
Countless Convenient Uses for a Dumpster Rental in Raleigh NC
Complete your upcoming project quickly and easily with a dumpster rental in Raleigh NC that homeowners, businesses, construction professionals, property managers, and individuals can count on to clear the waste in a cost-effective and convenient way. Whether you're cleaning out the garage or repairing the roof of your rental property, our dump trailers offer support and accessibility on a short or long-term basis so that you can get your job done right the first time.

As a locally owned and run business, we strive to go above and beyond what our customers expect by giving them the best service, products, and prices. We make it as simple and straightforward as possible to schedule a delivery, clear out unwanted waste, and get it out of your hair in no time at all. When you book a dumpster rental in Raleigh NC for a residential or commercial project, you can count on exceptional customer support, on-time delivery, and industry-grade dumpsters. Take a look at the most popular uses for our heavy-duty trailers and book yours online today!

Durable Construction Dumpster Rental Raleigh NC Contractors Depend On
Book the construction dumpster rental Raleigh NC contractors choose first from the knowledgeable and friendly team at Dumpsters On Wheelz! Our dump trailers are ideal for loading bulky construction waste seamlessly, keeping your unwanted materials contained and out of harm's way so you and your team can focus on the job. Our heavy-duty bins are designed to contain a range of waste, including lumber, plastic, piping, shingles, siding, and other waste. Keep your work site on track with construction dumpster rentals Raleigh Durham NC construction professionals depend on to manage the mess and clear out waste in a timely and cost-effective manner.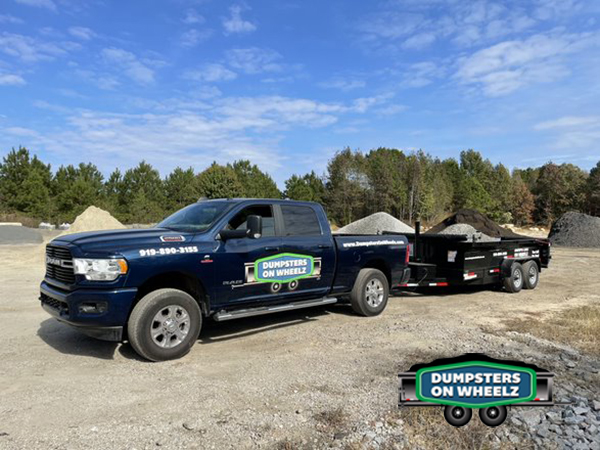 Roofing Construction Dumpster Raleigh NC Counts On to Haul Bulky Waste
Use the construction dumpster Raleigh NC roofers depend on to keep their work sites safe and waste-free throughout the duration of their commercial or residential jobs. Our industry-grade dump trailers are built to contain and haul a range of bulky materials, including shingles, lumber, slate, tiles, clay, and other unwanted waste. Our easy-to-load trailers are designed with usability and efficiency in mind. With the help of the construction dumpster Raleigh depends on most on your job site, you can quickly clear away unwanted waste to keep your work site on track.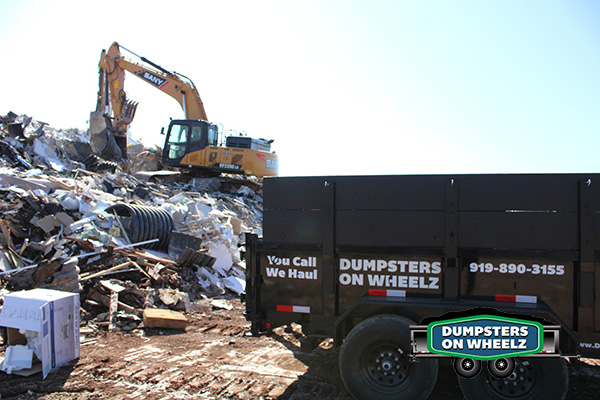 Trash Dumpster Rental Raleigh NC Businesses Can Trust
With the trash dumpster rental Raleigh NC business owners trust most on your side, you can keep your commercial space waste-free and looking its best. We regularly work with banks, apartment complexes, schools, retail stores, office parks, restaurants, and other commercial entities to provide top-notch equipment at affordable rates for your short or long-term waste removal needs. Book the garbage dumpster rental Raleigh NC businesses rely on to keep the waste out of the way so you can focus on running your business with peace of mind. Our flexible scheduling options allow you to balance your daily operations while clearing away any unwanted waste.
Residential Dumpster Raleigh NC Homeowners Use for Repairs and Renovations
Book the residential dumpster Raleigh NC homeowners choose first to complete a wide range of repair, renovation, remodeling, and cleanup projects efficiently, safely, and quickly. Whether you're cleaning out the attic, downsizing in preparation for a move, or repairing your roof, we have no doubt our dump trailers will help you complete your project in a timely and cost effective manner, allowing you to focus on the task at hand. We regularly drop off our dumpster rental near Raleigh NC to help support a variety of project goals, including home cleanouts, driveway demolitions, roofing repairs, junk removal, estate sale preparation, flooring removal, or other important cleanout tasks. Book online today!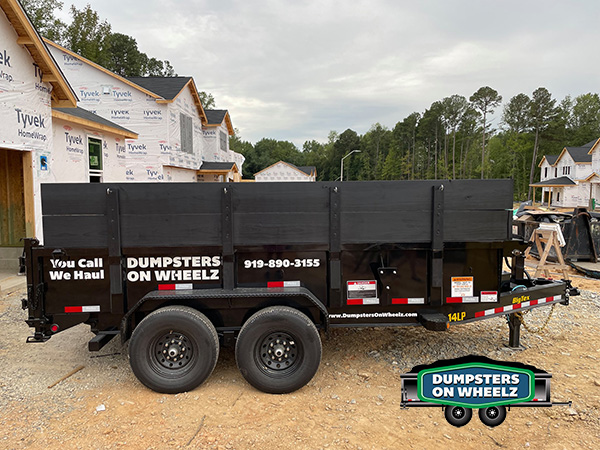 Budget Dumpster Rental Raleigh NC Residents Use to Clear Yard Waste
Use the budget dumpster rental Raleigh NC homeowners trust most to clear away unwanted yard waste and outdoor projects with ease. Whether you're clearing out brush after a bad storm or managing a commercial landscaping overhaul, our 15-yard dump trailer is a convenient and cost-effective way to manage the waste. Just load up the bin, give us a call when it's full, and we'll get it out of your hair in no time. We regularly deliver our bins to help support the temporary or long-term goals of homeowners hoping to clear yard waste, demolish sheds or decks, clean up after a storm, and increase their curb appeal in one fell swoop. Schedule a delivery for a single-day use or on an ongoing basis using our online booking tool!
Why You Should Choose Our Raleigh NC Dumpster Rental Options
Work with our reliable and responsive team of Raleigh NC dumpster rental experts and let our professionals handle the stress of the waste disposal process on your behalf. When you partner with our locally owned business to clear the clutter, keep your work site on track, and remove unwanted waste, you're working with folks who care about the outcome of your project as well as the cleanliness of our communities. We have a long-standing relationship with the Buffaloe Landfill and dispose of waste in accordance with all city, county, and state regulations.

We've built a positive reputation as a dependable Raleigh NC dumpster rental provider by providing top-quality rentals supplied by industry-leading manufacturers, along with unbeatable prices and customer support. Whatever your short or long-term rental needs are, we're here to help. Our company was founded on a mission to make our customers' lives easier by offering competitively-priced, commercial-grade products that won't disappoint. Our convenient, user-friendly online booking tool allows you to schedule a delivery from the comfort of your home or while managing your crew on your job site. Get in touch with Dumpsters On Wheelz if you have any questions by giving us a call at (919) 890-3155 today!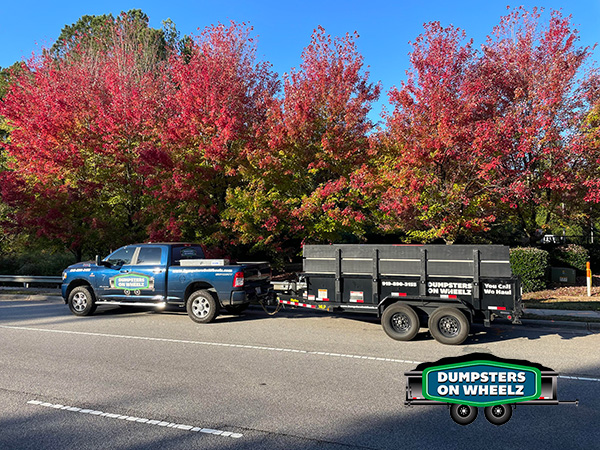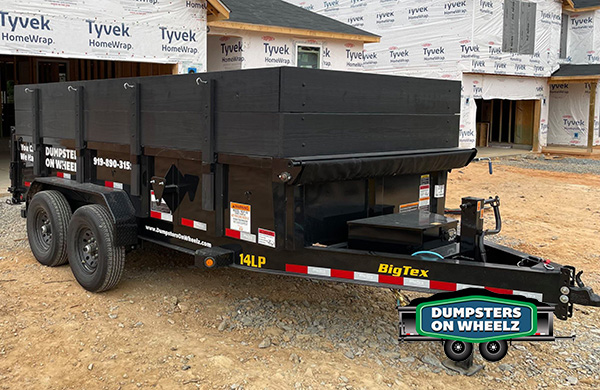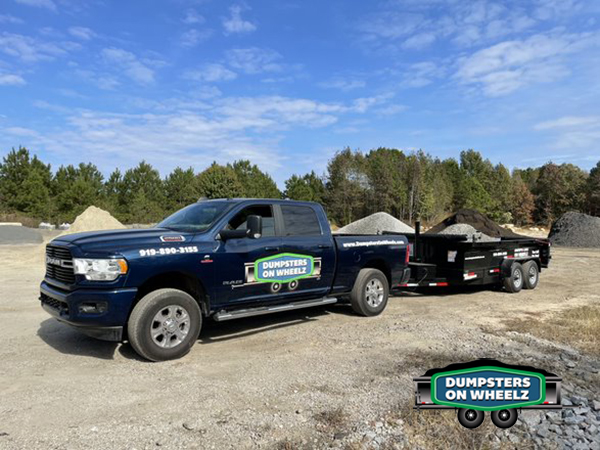 How to Rent a Dumpster Raleigh NC Customers Give 5-Stars
When you're ready to rent a dumpster Raleigh NC uses to complete projects quickly and efficiently, we make the process as easy and hassle-free as possible with our convenient online booking system. In a matter of minutes, you can select the timeframe you'd like to reserve the bin for, add it to your cart, fill out important details, and confidently submit your payment with our secure system.

When renting dumpster containers Raleigh NC can trust online, follow the steps below:

1) From any page of our website, click the green "Book Now" button in the upper right corner to get started.
2) Choose from our listed timeframes, including 1-day, 3-day, 7-day, or weekend. Additional days and tonnage can be added if needed.
3) Review the 15-yard dump trailer details then click the green "Book Now" button next to the price.
4) Click the green "Add to Cart" button then select your service type (residential or commercial), before clicking the green "Continue" button.
5) Click the green "Choose Date" button to select your drop-off and pick-up dates before reviewing your cart and clicking the green "Checkout" button.
6) Input your contact, billing, dumpster placement, and other important information before acknowledging you've read the contract and click the green "Continue" button.
7) Input payment information using any major credit card and submit with our secure processing system.

It's that easy to rent a dumpster Raleigh NC can count on! Once you've submitted payment, you'll receive a confirmation email from our team, and one of our staff members will be in touch leading up to the delivery date to confirm a drop-off window that works best for your schedule. For the #1 dumpster service Raleigh NC has to offer, choose the professionals at Dumpsters On Wheelz!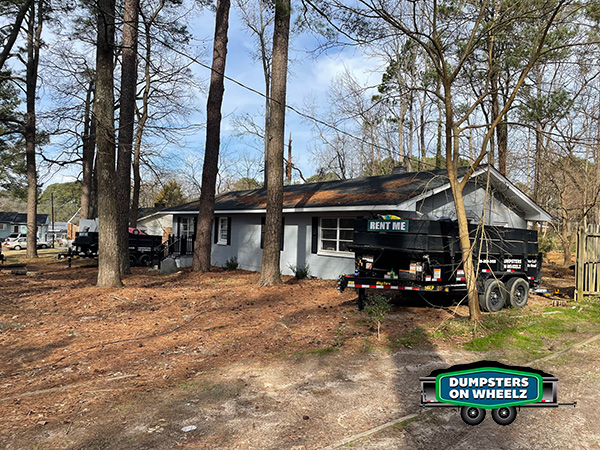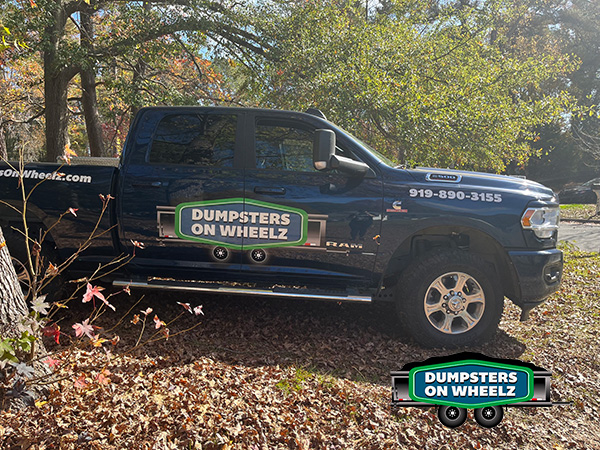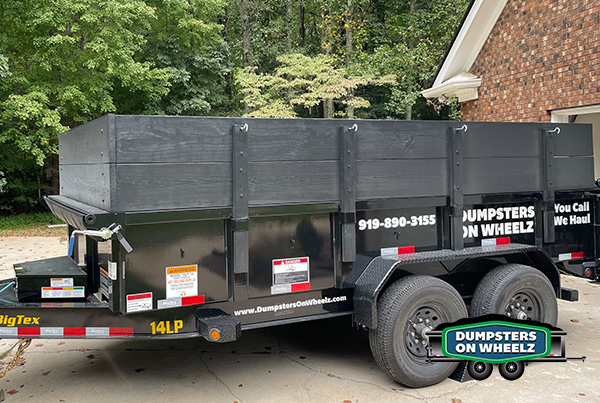 Cost-Effective Dumpster Rental Raleigh NC Prices
With the best dumpster rental Raleigh NC prices and services, you can complete your upcoming waste removal project with ease! Our customers appreciate that we offer flexible scheduling options that best suit their specific timelines, along with competitive pricing to help keep your project on track and under budget. Take a look at our scheduling and pricing guide below and book your rental online in a matter of minutes.

Our 15-yard dump trailers measure 14' long by 7' wide by 4' high and are ideal for completing a range of projects, including residential remodeling projects, roofing repairs, driveway demolitions, seasonal landscaping cleanouts, junk removal, and other efforts. This is a versatile size that suits a range of waste removal needs for those searching for a TV dumpster Raleigh, NC homeowners trust or an ongoing rental for a commercial job. A single-day use begins at $275, which includes one ton of waste disposal. A week-day 3-day rental begins at $325 for up to one ton of waste removal, while our weekend rental begins at $300 for a Friday drop-off and Monday pick-up, including one ton of waste disposal. A 7-day rental begins at $375 with one ton of waste included. Additional days and extra weight are available at $40 per day and $60 per ton.

No matter the scale or scope of your project, our flexible scheduling and heavy-duty bins will help you successfully complete your repair, cleanout, remodel, demolition, or new construction with ease. If you've been on the hunt for a 10yd dumpster Raleigh NC uses for smaller projects, our 15-yard is the perfect solution to your needs. Our budget-friendly options allow you to load the bin at your own pace, then just give us a call when you're finished and we'll get the job done dumpster container rentals Raleigh NC chooses first out of your hair in no time!

Delivering the Best Dumpster Raleigh NC Has to Offer to Your Area
We're proud to deliver the #1 dumpster Raleigh NC residents, businesses, local organizations, and individuals can count on to a wide range of Wake County, including the 27511, 27518, 27529, 27545, 27560, 27587, 27591, 27601, 27603, 27604, 27605, 27606, 27607, 27608, 27609, 27610, 27612, 27613, 27614, 27615, 27616, 27617, and 27703 zip codes. Our service area includes the surrounding cities of Garner, Auburn, Apex, Cary, Clayton, Knightdale, Angier, Archer Lodge, Durham, Erwin, Fuquay-Varina, Holy Springs, Selma, Wendell, Willow Springs, and more. If you're interested in working with our dumpster rental Raleigh NC locally owned family business, but don't see your city or zip code listed, give us a call at (919) 890-3155 to see if we can arrange for delivery in your area.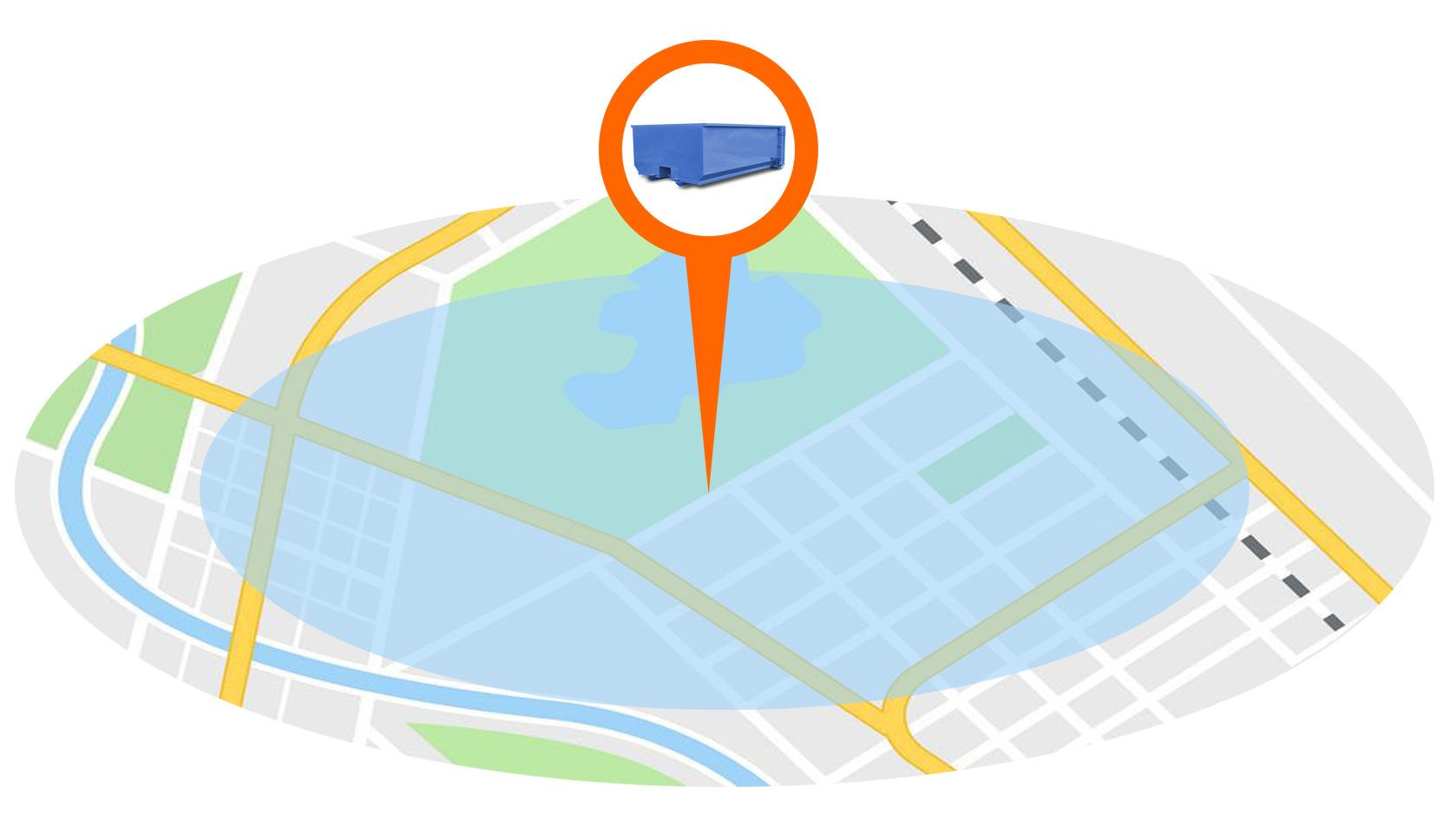 Our mission is to play a critical role in keeping our communities safe and waste-free by offering the dumpster Raleigh NC can trust to safely and efficiently haul unwanted materials and junk in a cost-effective manner. We've built lasting relationships with local businesses, government offices, apartment complexes, and the Wake County Public School System, and exceed our customers' expectations with each and every delivery. No job is too big or small for our team and fleet of industry-grade Raleigh NC dumpster selections. Get in touch with our team to schedule a drop-off or use our online booking tool to view availability and schedule directly from your job site, business, or driveway! You no longer have to spend hours searching for the perfect dumpster rental near me Raleigh NC uses to complete a range of projects with our selections to choose from.
View Service Area
Explore Raleigh, NC: Parks, Landmarks, and Exciting Activities
Raleigh, North Carolina, is a vibrant and thriving city that offers an abundance of parks, landmarks, and activities to satisfy both residents and visitors. From scenic outdoor spaces to historical attractions, Raleigh provides a wide array of experiences for everyone to enjoy. Let's delve into some of the top parks, landmarks, and activities that make Raleigh an exciting destination.

Raleigh is known for its picturesque parks that offer opportunities for recreation, relaxation, and connecting with nature. Whether you're seeking a peaceful retreat or a place for active adventures, Raleigh's parks have something for every preference.

Umstead State Park is a true gem nestled just outside the city. Spanning over 5,500 acres, this expansive park features miles of hiking and biking trails, tranquil lakes for fishing, and scenic picnic spots. Immerse yourself in the beauty of the natural surroundings as you explore the lush forests and encounter wildlife along the way.

For a dose of history and serenity, Pullen Park is a must-visit. Established in 1887, this historic park is one of the oldest in North Carolina. Take a leisurely stroll around the picturesque lake, enjoy a ride on the historic carousel, or rent a paddleboat for a charming water excursion. With its lush green spaces and delightful attractions, Pullen Park is perfect for a family outing or a peaceful afternoon retreat.
Raleigh's Outdoor Delights
Raleigh is steeped in history and boasts numerous landmarks that showcase its rich cultural heritage. These landmarks offer insights into the city's past and serve as reminders of its significance.

One iconic landmark in Raleigh is the North Carolina State Capitol. This majestic building, dating back to 1840, stands as a symbol of the state's history and democracy. Take a guided tour to explore the beautiful architecture, learn about North Carolina's government, and discover the stories that shaped the state.

Another noteworthy landmark is the North Carolina Museum of History. Step inside to embark on a journey through North Carolina's past, from Native American civilizations to the present day. Explore exhibits filled with artifacts, photographs, and interactive displays that bring the state's history to life. The museum offers an engaging and educational experience for visitors of all ages.
Fun for All in Raleigh, North Carolina
In addition to parks and landmarks, Raleigh offers a plethora of activities to keep you entertained and engaged. From cultural experiences to family-friendly attractions, the city has something for everyone.

For art enthusiasts, a visit to the North Carolina Museum of Art is a must. This world-class museum features a remarkable collection of artworks spanning various periods and styles. From Renaissance masterpieces to contemporary creations, the museum showcases the diversity and creativity of human expression.

Families will delight in a trip to the Marbles Kids Museum, a hands-on interactive museum designed to spark curiosity and ignite imagination in children. Explore exhibits that cover topics ranging from science and technology to arts and culture. With its engaging activities and playful atmosphere, Marbles Kids Museum offers endless fun for young learners.

Whether you're immersing yourself in the natural beauty of Raleigh's parks, exploring the city's rich history through its landmarks, or engaging in exciting activities, Raleigh promises an unforgettable experience for all who visit. Plan your trip and discover the charm, culture, and recreational delights that await in this vibrant city.
FAQs About the Dumpster Rental Raleigh North Carolina Uses Year-Round
Learn more about the dumpster rental Raleigh North Carolina chooses first by browsing our frequently asked questions below. We make it as simple and stress-free as possible to reserve a rental with our company, but if you have any questions along the way, don't hesitate to give our team a call at (919) 890-3155 and we'll be happy to help.
Q.Do you offer same-day delivery options?
A.Absolutely. We do our best to accommodate our customers' schedules, ensuring your projects stay on track. If you're interested in a same-day delivery, give us a call at (919) 890-3155 immediately to see if arrangements can be made. We also offer next-day rentals and flexible scheduling options that are most conducive to your specific waste removal needs. As one of the top-rated dumpster companies Raleigh NC has to offer, we strive for excellence by prioritizing stellar customer service, on-time deliveries, and affordable rates.
Q.How much does it cost to rent a roll-off bin?
A.Our prices vary depending on a few factors, including the rental time period, amount of waste being disposed of, and delivery area. We offer a weekend special beginning at $300, including delivery on Friday and pickup on Monday, as well as one ton of waste disposal. If you're searching for the most cost-effective dumpster rental Raleigh North Carolina can provide, we're confident you'll find unbeatable value with our services and selections.
Q.What items can be loaded into the container?
A.
Our industry-grade bins are designed to contain and haul a wide range of waste safely and efficiently. We accept construction materials, yard debris, furniture, and general garbage. Tires and mattresses will incur an additional fee of $25 and $50, respectively. We do not accept hazardous liquids, including paint, gasoline, or motor oils in the roll off dumpster rental Raleigh NC trusts most.